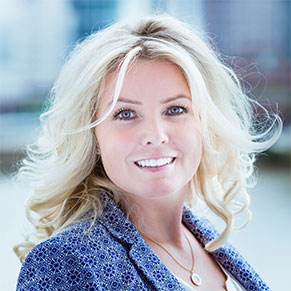 Nicoline Refsing – Founder of Rockart Design.
Nicoline Refsing
Designer – Creative Director – Show Director
Founder of Rockart Design
From a young age, Nicoline was driven to create experiences that move and inspire audiences. With a Masters degree from The Royal Danish Academy of Fine Arts and an unwavering focus, she set out in the music industry to connect fans and artists through design and immersive experiences.
It was Nicoline's unique ability to interpret, distill and communicate artistic messages that saw her quickly rise to the top of her field, where she remains today as one of the industry's most sought-after production designers and show directors.
Founding Rockart Design in 2011, she started her career under the wing of production design icon Mark Fisher of Stufish. With Stufish, Nicoline designed the staging for the hugely successful Pink Fun House tour. According to Pollstar, the Funhouse Tour (2009) earned around $150 million, with more than 1.5 million attendees. The tour became one of the highest-grossing concert tours in music history.
Nicoline's foundation as a part of the legendary Stufish team, saw her work on the designs for the world's biggest live shows, including The Rolling Stones, U2, Michael Buble, Take That, Robbie Williams, MTV EMAs and VMAs and the legendary Cirque du Soleil.
Her talent for creating remarkable experiences extends to ceremonies. Nicoline worked on the design for the East Asian Games and the Beijing Olympics Opening and Closing Ceremonies.
Today, Rockart Design is without a doubt a global leader in its field, thanks to a unique blend of artistic vision, creativity, technical skill, experience, meticulous attention to detail and care. Nicoline's expertise in creating spectacular experiences and visual extravaganzas is supported by her complete understanding of each and every discipline involved in the process, from first concept right through to delivery.
As Creative Director and Content Producer for the entire Eurovision Song Contest in 2014, Rockart Design was responsible for all 37 participating countries. Collaborating with artists to create authentic, unique performances is a responsibility Nicoline shoulders with confidence, endless enthusiasm and commitment. 2014 saw Eurovision viewer ratings increase by 25 million. Often referred to as the 'Queen of Eurovision' she has been invited back to be Show Director and creative direct and design performances every year since.
Caring is intrinsic to Nicoline's success. With audiences reaching the 200 million mark, her Eurovision work sees her responsible for creating the viewing experience for both television, and live audiences – the stakes are undeniably high, and no detail is left unconsidered. 2016 saw her collaborate with Australian contestant Dami Im, whose striking performance saw her finishing in second place of the competition.
In 2019, Nicoline extended her work into the Junior Eurovision where her artistic direction of the Spanish artist Melani secured her a 3rd place.
Rockart's ability to move a television audience is second to none. Nicoline's design credits include The National Television Awards, The Brit Awards, as well as award ceremony performances for a host of international artists including the late Amy Winehouse, Rihanna, Coldplay, Cheryl Cole, Kylie Minogue, Kings of Leon, The Killers and Snow Patrol. Working closely with popular TV show The X-Factor, Rockart provided set design for guest performances by Olly Murs, Emeli Sandé, and pop sensation One Direction.
In 2015, Rockart was introduced to the world of e-sports, a new trend in major events that sees live audience competitions staged for online gaming. She provided production design for the emerging Riot Games, League of Legends worlds. This saw Rockart design create four international arena spectaculars for an entirely new streaming audience. Following this success Nicoline designed the first Worlds Final for PUBG in Berlin in 2018.
The growing desire for brands to create unique experiences, and for events to really stand out from the crowd, led Rockart Design to take on and deliver a full creative package for "The Duke of Edinburgh's Award 60th Anniversary Gala Event". An event for the UK royal family, which on the night raised over 1 million pounds for the charity.
The company also provided production design for the spring product launch for fashionable watch brand, SWATCH and a Show Director role working with Jack Morton on a high-profile product launch for Samsung.
Not surprisingly Nicoline was the Production Designer of one of the first live shows after the pandemic – the Team GB Homecoming Event broadcasted by BBC1. A touching show celebrating the successful UK Olympic athletes, with live performances from a long list of the most popular current artists like Rag 'n' Bone Man, Griff and Anne-Marie amongst others.
Nicoline has been nominated for TPI's Set Designer of the year award, so it's no surprise that she has built a fiercely passionate team of industry supporters.
'At a time when TV set design is monochromatic and derivative, Nicoline brings colour, vibrancy and originality. We need more of this on our screens' stated Brit Awards Exec Producer Helen Terry
Success will be a continuation of the company's legacy as a market leader, delivering breathtaking performances and shows for internationally renowned clients, artists and brands.
'I went into this business because I thought that through music, and entertainment we could bring people together to make a difference. Music goes across countries, continents, cultures, politics and religion. If we can create a visual expression which amplifies the artist message in a way which emotionally engages the audience, then I think we have done a fine job' Nicoline Refsing